Variegated Norway Maple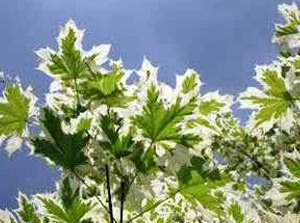 Height: 50 - 60 feet
Width: 40 - 50 feet
Foliage: Green with White edges
Fall Colors: Yellow
Growth Rate: Moderate to Fast
Soil: Adaptable, tolerates sand to heavy clay
Description: This unusual specimen tree is certain to draw attention. A dense shade tree, it is known for its straight trunk and well-shaped crown, but most notably for its beautiful variegated foliage. Leaves are green with an attractive creamy white margin.