Burr Oak (Quercus macrocarpa)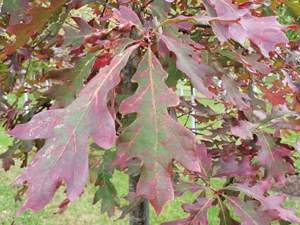 Height: 60-100 feet
Width: 50-90 feet
Foliage: dark green and very dense
Fall Colors: reddish color
Growth Rate: slow-growing
Soil: clay; sand; loam; acidic; occasionally wet; well-drained
Description: White Oak has a stately silhouette all year long. It is one of the best-looking Oaks in the winter due to the light gray, platey bark and open crown. The trunk is straight with main branches well-attached to the tree making this a long-lived, durable tree for large, wide-open landscapes. Leaves may be held into the early parts of winter.