Ivory Silk Lilac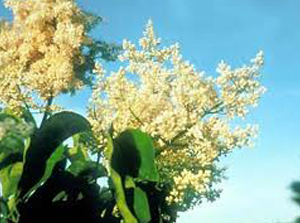 Height: 20 feet
Width: 15 feet
Foliage: Dark green
Fall Colors: Bronze, Gold
Growth Rate: Moderate, full sun
Soil: Sand, loam, clay, acidic, slightly alkaline;
well drained
Description: This tree has large upright plumes of creamy white fragrant flowers in early summer at a time when most flowering trees have finished blooming. It is very adaptable to urban growing conditions, small stature and an upright spreading vase shape. A fine very trouble free ornamental tree that is attractive all year.