Royal Star Magnolia (White Flowering) (Magnolia stellata 'Royal Star')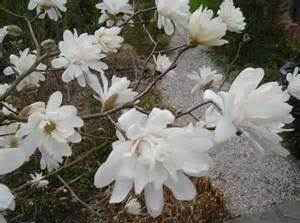 Height: 20 feet
Width: 20 feet
Foliage: Green
Fall Colors: Coppery-bronze
Flower Color: Large white flowers, 30 pedals or more with a faint pink blush at the base
Growth Rate: Moderate, slow
Soil: Moist well drained soil
Description: Ballerina Magnolia is covered in stunning fragrant white star shaped flowers with yellow eyes and pink centers. It has a low canopy with a typical clearance of 3' off the ground. It grows best in full sun to partial shade.