Jane Magnolia (Pink Flowering)
(M. lilifolia x M. stellate)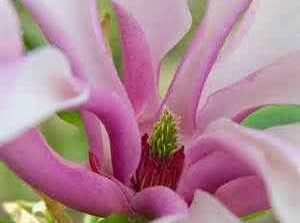 Height: 10 feet
Width: 10 feet
Foliage: Medium green
Fall Colors: Yellow-bronze
Flower Color: Purple-red, Fuchsia with
paler tones inside
Growth Rate: Moderate, slow
Soil: Moist well drained soil
Description: This magnolia blooms 2-4 weeks later than normal yhus reducing the risk of frost damage. 'Susan' is noted for its compact shrubby habit, fragrant fuchia flowers and late bloom. Goblet-shaped flowers, each with 6 slightly twisted pedals, bloom shortly before the foliage begins to appear.