Norway Spruce (Picea abies)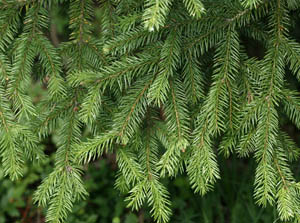 Height: 40-60 feet
Width: 25-30 feet
Foliage: Green Needles
Fall Colors: Silver Blue-Green Needles
Growth Rate: medium fast
Soil: acidic, loamy, moist, sandy, well-drained and clay soils. It has some drought tolerance.
Description: The Norway Spruce is the fastest growing of all spruce trees making it ideal for wind breaks and privacy screening.