ROYAL RAINDROPS CRABAPPLE
(PINK FLOWERING) (MALUS 'JFS-KW5')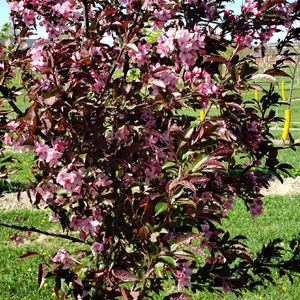 Height: 15-20 feet
Width: 15-20 feet
Flower: Pinkish-red
Foliage: Dark green-purple
Growth Rate: Medium
Fall Colors: Red
Soil: Prefers acidic loamy soils, moist sandy soils and well-drained clay soils 
Description: The Royal Raindrops crabapple is a fantastic, scab resistant, crabapple cultivar. It has dark green-purple foliage during the summer which is a nice contrast to most ornamental trees. It also has an abundance of stunning pinkish-red flowers in the spring.