Sugar Maple (Acer saccharum)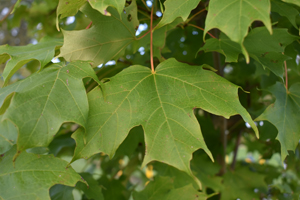 Height: 50-80 feet
Width: 35-50 feet
Foliage: Its foliage is green during the summer and dense.
Fall Colors: It is famous for its vibrant golden yellow foliage in the fall and can also turn
orange or red.
Growth Rate: slower growing, very hardy
Soil: clay; sand; loam; acidic;
or well-drained soil types
Description: Sugar Maple can grow in all light conditions from full sun to full shade but full sun is optimal. It is also disease resistant.