Snow Fountain Weeping Cherry (White Flowering) (Prunus x yedoensis)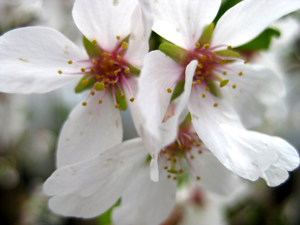 Height: 6 to 8 feet
Spread: 4 to 10 feet
Crown uniformity: irregular
Crown shape: weeping
Crown density: moderate
Growth rate: fast
Color: White Flower
Description: Weeping Higan Cherry makes a striking specimen in a large yard, park or commercial landscape. Locate it to bring attention to an area, since its form is attractive all year long. Be prepared to provide more maintenance dollars to care for this beautiful tree than others. One of the premier weeping trees for American gardens, Weeping Cherry has a place in any large-scale landscape as a specimen to accent a lawn area. It is best to maintain the tree with mulch out to the edge of the canopy and with branches almost touching the ground. Even a light breeze will sway the thin, drooping branches. Very attractive close to water and often used this way.